Denton & Haughton in the Archive Photographs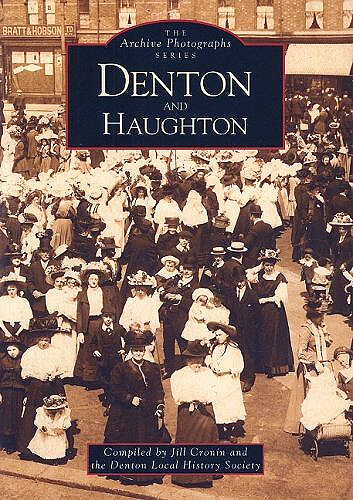 Denton and Haughton were two neighbouring towns until 1894 when Denton Urban District Council was formed, subsuming the township of Haughton and leaving the name Haughton Green. Durning the period covered by the book both towns were particulary famous for hatmaking but mining, farming and the cotton industry also dominated the working lives of the people in this area.
This sequence of over 200 old photographs shows some of these people in the settings of the streets and buildings in which they worked and lived. We see them at work and at play in peace time and at war. Most of these fascinating photographs have never been seen in print before. Included are some unique photographs taken by a gifted amateur Victorian photographer, Edward Joseph Sidebottom. These pictures record the area around Denton in the 1850's and also provide a pictorial account of the building of St. Annes Church, Haughton in the 1880's.
Denton Local History Society reaches it's twentieth birthday in 1998 and this collection of old images, which represents only a part of its large archive of photographs, documents and oral history records, helps celebrate two decades of reasearch in to Denton's history. The help of the people of Denton in putting together this archive over the years is greatfully acknowleged and the Society hopes that in turn the people of the town will now enjoy this pictorial representation of their community's history.
ISBN-13: 978-0752407579 - Price £11.99