Denton Local History Society
Issue 42
Concluding the memoirs of Ann Atkinson
The Denton Hat Factory Abbortsford Melbourne Australia (Part 1) Concluding the memoirs of Ann Atkinson (from Issue 41 of the Dentonian)
I was taken to my Grandparents in Denton and to see my cousins June, Dorothy and Alan. I was closest to Dot, we were a similar age. She taught me to ride a two-wheeler bike, wobbling across the fields behind York Road. She was more brave than I was. Once as she hung upside down giving me a demonstration of "how to do it" on the big swing which bumped from side to side as you went round in circles she fell off Her mouth broke her fall and she did a lot of damage to her front teeth. Another time we were being chorus girls because we had been impressed at the Pantomime when they stood on top of big silver balls and rolled them with their feet across the stage. We climbed on top of oil drums which didn't roll anywhere because they were on grass and Dot fell off onto a dog's bone which went through the palm of her hand. We played safely on the terraced streets chasing up and down ginnels and annoying old people by knocking on their doors and running away. My grandma told me that when she was a girl she used to go in the cellar when she knew that her friends were going to call and when they stood on the iron grid near the front door step she would stick a lighted taper up their skirts. That was definitely worse than anything, which we did.
When my other cousins Hilary and Barbara came to visit us we'd play in the yard of the Farmer's Arms which was enclosed by high walls. My brother six years younger than me had a sand pit, old pans and shovels, and would join us for a pretend picnic when we tried to eat grass. Sometimes we would hear the Rag and Bone Man with his horse and cart shouting what sounded like "Sam Bone" repeatedly down the back entries. We would rush into the kitchen, beg for rags quickly and dash out to him to swap rags for a windmill or white or yellow sand stones which the cleaners used to Donkey Stone the doorsteps and window ledges of the pub.
When I was four my proud mother decided that l should go to a private School in Park Grove, Longsight run by a small staff of gentlewomen. I remember that I was taught French and Good Manners. One day each week every desk had a place setting of knife, fork, and spoon and we had to hold the cutlery properly in imitation of eating peas and soup, and cutting meat correctly. We practiced chewing each imaginary mouthful 30 times before we swallowed (to aid digestion) and I remain the last to finish my meal I company to this day.
On Friday as a special treat the "instruments" came out and without fail I brought up the rear tinkling my triangle.
When the School faced closure it was the end of Mum bringing Patch and my baby brother in the pram to meet me and the end of kicking Autumn leaves and splashing through puddles as we walked home together.
My next School was Alma Park in Levenshulme. My mum and Aunty Mary attended the same School years before. I enjoyed the classes and the playground, they were lively. I experienced my first Sports Day, Egg and Spoon and Sack Races. I made friends with a boy who had ten brothers and sisters and whose Dad taught Swimming at Levenshulme baths and a girl whose Dad was a Cobbler. I joined a couple of Sunday Schools to accompany different friends and sending me to Sunday School gave my hard working parents a chance of a break on Sunday of classical roles wearing dresses from dramatic black to ethereal white Then we would come on stage for a Finale:' Being small I was always on the front row kneeling with hands crossed on one knee.
There was lots of live theatre in Manchester before television transformed the viewing public. We went to films, Music Hall, Plays, Pantomime and the Circus. We listened to gramophone records and the Radio. Most homes had a piano, banjo, ukelele, violin or other instruments, and music stools crammed with sheet music which you could buy at many music shops in town or Music Sections in the big stores. We knew the words of sons and sang together and were unafraid to do party-pieces. My Aunt says that when the Farmers Arms closed at night her and Granddad use to have a sing-song before bed.
The Radio was a close friend. Whether at home or at a grandparent's we waited for Childrens Hour or the Dick Barton and Paul Temple signature tunes to introduce their exciting adventures. We enjoyed ITMA because it was smutty and we all copied the catch phrases such as "Can I do you now sir?" and Wilfred Pickles with Violet Carson on the piano who was to become the famous Ena Sharples in Coronation St. years later.
My mother had been taken by her mother to the ballet and they saw Anna Pavlova. Mum took me to the Opera House, Manchester and I saw other famous dancers such as Margot Fonteyn and Alicia Markova.
We went to the theatre on our annual holidays to Blackpool with Mum. Everything about the Golden Mile, the Pier, the Pleasure Beach and Winter Gardens and the Tower was Showmanship. There was an amazing finale to the circus performance when the floor of the circus ring slowly sank. Coloured lights showed water flooding into the ring as dancers in fantastic costumes paraded around the edges. A towering centre-piece was like a fountain and swimmers dived into the water and performed synchronised swimming. The circus ring which had clowns, horses, elephants, a ring-master, lions and tigers was transformed in to proper swimming pool.
Mum Mick and I danced as a trio at the Tower Ballroom to Reginald Dixon on the Organ. Dad could not have a holiday with his family. He would arrive by train for one day at the seaside and we would have a photograph walking together on the Prom.
Mum had a box camera and we had lots of black and white photographs taken. Coloured photographs of us taken in proper studios were hand -tinted with coloured inks. Colour film had not arrived for ordinary happy snappers. However at the cinema there were wonderful Technicolour and Disney films. I saw Fantasia which both enchanted and haunted me.
Thinking of our holidays reminds me of the attractive but useless swimwear which Mum used to knit for us. One of mine was white with an emerald star in the middle of the chest, Mick's trunks matched. When we went into the sea the weight of wet wool pulled the costumes down to the ground and I wailed as the home-made cord of twisted wool cut into my skinny shoulders. That was a time when I sulked.
I think home-knits caused national embarrassment especially when I see some of the knitting patterns of the day, but babies and dolls were really beautifully dressed in woollens. They felt cuddly.
The Denton Hat Factory
Abbortsford Melbourne Australia - Part [1]
I was brought up in Denton, attending Russell Scott and Audenshaw Grammar School. Since 1988 I have lived in Melbourne, Australia, where I work as a Landscape Architect. For may years I have been aware of what I suspected to be a local link with my hometown, but I have only recently made time to carry out some investigations, motivated perhaps by seeing Manchester's Commonwealth Games success and knowing that the next Games will be here in Melbourne.
Abbotsford Mill The building referred to as the Denton Hat Factory (sometimes called the Denton Hat Mills) is an imposing structure in a mixed residential and industrial area on the eastern edge of the centre of Melbourne, an area settled on mid-Victorian times before town planning began to segregate living and working areas - much like the older parts of Denton. To me, as soon as I became aware of it, the association of 'Denton' and 'Hat' in the same title could only be a reference to Denton, Manchester.
But what exactly is the nature of the association between the town of Denton and the Denton Hat Factory, or more correctly, the Former Denton Hat Factory ?
My first enquiries were into the town planning provisions of the municipality concerned (Yarra City Council - 'City' being and administrative unit, unlike the British notion of a City as a place that has a cathedral ). The building is protected formally as one of the municipality's 'heritage places' . It sits on the larger 'heritage precinct' . The following citation prepared by the National Trust (Victoria) credits the site with State significance and provides the justification for this heratage status (Victoria is the State in which Melbourne is stiuated ).
' Denton's is of Local, State and probably National significance. It is of significance locally as in important enterprise created, operated and worked by the Abbotsford residents. It is the dominant feature of the Nicholson Street - Mollison Street area. It is significant at State level because of its importance as the colony's largest factory, its high level of mechanisation, and its directorial and shareholding links with leaders in commerce, industry and local and state government. It is of architectural significance as the work of William Pitt and an early example of the industrial use of polychrome brickwork. It is of architectural significance at the State level as a sophisticated example of William Pitt's industrial architecture, comparing with his later work for the Victoria Brewery, Foy and Gibson and Bryant and May. The symmetrical and modulated polychromatic brick façade in the late Renaissance Revival style constitutes an appropriate expression of the company's importance.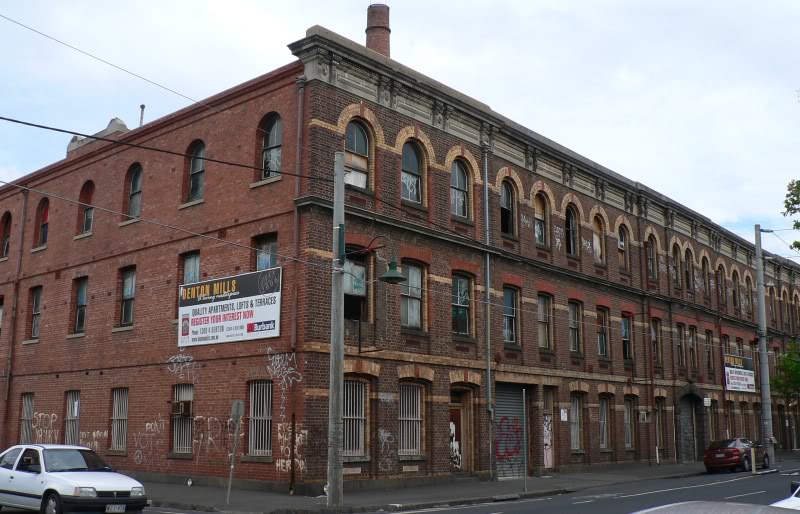 -
My next step was a good look at the building. The enclosed photographs (see Gallery page) show a main façade built to impress and at the same time house a successful, 'modern', no-nonsense commercial enterprise. Many parts of the Mills now show the unfortunate effects of time and the decline of this form of industry. The building may now be unsurprising for those familiar with the north of England, but in an area of single storey timber houses it is unusually big and bold.
The pace with which new but simple buildings covered the landscape should be noted. The first European settlers did not land in what was to be Melbourne until 1835, Melbourne from that time until 1850 being governed from Sydney (first settled in 1788). By 1852 , helped by the 1851 gold rush, Melbourne amazingly had 76,000 residents.
Becoming more focused, I tackled the local library, not far from the Mills. A photocopy extract from a (1890's ?) printed source entitled Victoria and Metropolis : Past and Present states that ' The Denton Hat Mills ' were established in a two-storey brick factory on the present site 'in 1874, and then employed about 12 hands………and now employs over 200 hands.'
Photocopies from the Special Century Edition of the Leader ( a local newspaper - presumably the year is 1900 ) include an illustrated article on the 'Denton Mills Hat Factory Company Limited' that includes the following description of the Company's importance:
'In building every care was taken to comply strictly with every provision of the Factories Act, and both buildings and machinery as they now stand will compare most favourably with any similar institutions in either England or America. The industry itself is peculiarly adapted to the colony , as the raw materials used , viz., rabbit fur for the best hat and wool for the lower qualities, are obtainable on the spot and in abundance , the consumption of fur being equal to about 1,000,000 skins per annum, and of wool about 400 bales yearly, only on the finer description of wool being used in this particular trade. In the Denton Mills alone about 400 hands are permanently engaged whilst a great deal of labour is employed outside the factory in providing the thousand and one articles regularly required in the connection with a large establishment of this character, so that the weekly wage is a big one……..'
The article also includes photographs of the factory from an elevated point just down the street and also indoor photographs of large rooms full of machinery and workers, entitled ' Process of Finishing' and 'Process of Manufacture - In Trimming Room'.
The sequence of development of the factory is illustrated by research work in the early 1990's by the architects engaged to establish the history and significance of the building (A3 plan enclosed) . This work a steady expansion of the main building from 1881 to 1915, including the demolition and replacement of the first, 1874 building, with a three storey building in 1902.
The August 27th 1901 edition of the Draper in Australia reported that the Denton Mill Hat Manufacturing Co. was employing 350 people and was one of the most interesting factories in Victoria'. The process of hat making was described in a detailed article, with many references to the machinery used in the process. Output of hats was ' 600 dozen weekly '. ( That's 7200 !)
However , in all this material there was no mention of the nature of the commercial link withDenton, Manchester.
The most obvious explanation is that the venture was an offshoot from an existing Denton Business. Thomas Middleton in his History of Denton and Haughton refers in general to Cooke , Smith and Co. of Denton doing the business with Australia ( and many other colonies). He also refers to the Denton Hat Co. Ltd. , but states that it was founded in 1921, whereas the Melbourne use of a similar name seems to date back to at least 1874.
Perhaps Denton's importance in the hatting world, the need to import machinery from Britain and the availability of imported hats carrying labels with Denton addresses meant that the use of ' Denton' carried with it distinct advantages that could not be ignored. This is not as likely as it may seem at first sight.
In this city of 3.5 million people, only three street names include the word 'Denton' . Curiously, though, 'Manchester' is emblazoned in shop windows and newspaper advertisements an all department stores have their 'Manchester' sections. Such was the degree of association between bedding, towels, curtains and so on and the city that exported the textiles to make them, that the names of place and products became interchangeable, this habit surviving even now. 'Manchester - 20% off ' is about cheap sheets, not airfares!
It is therefore not too hard to imagine locals here over 120 years ago 'buying a Denton' rather than a hat, the word association dying with the change in fashion.
But there is more tangible connection. The source referred to either entitled Victoria and its Metropolis: Pat and Present states that :
Mr Shaw, the present manager, was engaged at ome, and came to the colony about 5 years ago, previous to which he had been engaged in Messers. Cheetham and Sons' Cook Bros., Down and Sons' and several large manufactories of that kind.'
This in an obvious link to Denton but his appointment in the mid 1880's post-dates the setting up of the business.
Who is Mr Shaw ?
His Photograph accompanies an article on the annual meeting of Denton Mills Hat Factory Company in the August 27th 1901 edition of The Draper of Austrailia , at which a profit of £,2856 was announced. At the time a Councillor E. Shaw represented the area on the local council (before amalgamation in the 1990's this was the City of Collingwood). For want of other Information, it could be assumed that this is the same man - political status often went with the social and commercial power such enterprises enjoyed.
That is as far as I can go without more research. However, I appreciate that Society members may knmow much more than I do about this topic, or at least be able to turn to extensive records that could indicate who Mr E. Shaw was and what precisely is the relationship between one of Melbourne's significant buildings and the town and the people of Denton.
Robert CooperAugust 2002.
Menu