Whilst the saga of what to do with Denton market square continues, here are two pictures from happier times, possibly taken from The Gardener's Arms, in 1964 (top) and 1965 (below). Note the old Town Yard in the background.
Pictures will be added at a later date.
Tameside Business Development Centre
My last 13 years prior to retirement last May were spent at the centre, on Windmill Lane, Denton. Just before I left, a lot of demolition work was done, prior to redevelopment of much of the site, and I went round with my camera.
I seem to remember the place always being referred to locally as "Th' Rehab", the Rehabilitation Centre, a Government training centre, where skills were taught, such as joinery, bricklaying etc, and there was also a Remploy Unit housed there. Local men could go for a free haircut, administered by a (hopefully) well supervised trainee.
I believe the centre was erected after WWII, and the new development is costing about £7million.
In 1994, when I arrived there, the site was owned by Tameside Council and has since had two changes of ownership, currently Ashtenne.
Have you ever worked or done business there? Do you have any memories connected with it, or what was on the site before it was built? I would be pleased to here from anyone who has, as it is an important piece of Denton's history, which will make a valuable addition to our archives.
Allan Arrowsmith
The Duke's Daughter And The Manchester Apothecary
HOW Lady Barbara Fitzroy, the daughter of the Duke of Cleveland, and a granddaughter of Charles II., came to live in the house of a Manchester apothecary is shrouded in mystery. Her father was the son of Charles H. and the notorious Barbara Villiers, Lady Casticmaine, whom the " Merry Monarch " created Duchess of Cleveland. He was named Charles after the King, and when his mother died in 1709, he succeeded her as first Duke of Cleveland. Lady Barbara was one of the three daughters by her father's second marriage, but how she came to be disowned by her mother, as set out in the curious in­scription on her gravestone in the choir of the Collegiate Church, is unknown.
There are two brass plates upon the stone. The upper one bears the arms of Charles IL with the bar sinister and this inscription :-
" Lady Barbara Fitzroy
Eldest daughter of the
Most Noble Charles
Duke of Cleveland and Southampton
Died January 4th 1734."
Upon the lower plate are the arms of the Dawson family, and the following inscription :—
"Here are deposited the remains
of William Dawson, Esq, who died
On the 17th of August 1780,
And in the 60th year of his age.
He desired to be buried with the above
Named Lady, not only to testify his
Gratitude to the memory of a kind
Benefactress, aitho' he never
Reaped any of those advantages from
Her Bounty to his Family, which
she intended ;
But because his Fate was similar to her's
For she was disowned by her mother,
And he was disinherited by his father."
whose sad story has been preserved in the ballad "Jemmy
Dawson."
" My Lady Barbara Fitzroy that lived with Mrs. Dawson, and Mrs. Mort were both buried this week," wrote a friend to John Byrom. " My Lady has made Mr. Dawson her heir, if he can but come at the money," Mr. Dawson did not " come at the money" as he caused to be recorded upon the gravestone, forty- ,six years after Lady Barbara's death.
The father who disinherited him was an eccentric person, and was buried by his own express direction in a " cuffed shirt and cravat, a night-cap of brown fur, a striped morning gown (orange and white), deep crimson-coloured silk waistcoat and breeches, white silk stockings and red morocco slippers. In his bosom was placed a folded piece of white paper, which en­closed two locks of hair cut from the heads of two boys for whom Mr. Dawson had a great regard. They were the sons of a gentleman named Cooper, who was his steward and with whom Mr. Dawson lived. To this person he left his estate."
Several years before his death the elder Dawson engaged an engraver to inscribe the plate he proposed to have placed over his remains, and this he kept in his room until his death.
What a story lies hidden here ! A king's granddaughter, either driven from her home or leaving it of her own accord, and seeking refuge in the family of a Manchester apothecary ! Why did she come to Manchester ? How did she make acquaintance with the Dawsons ? Those are questions to which no answers can be found. Nor do we know why her host and entertainer was disinherited by his father. This William Dawson was an apothecary, Lady Barbara died a few months before and the father of the luckless " Jemmy " her father, and it is therefore not im­Dawson who was executed in London for probable that she had no fortune to his share in the 1745 Rebellion, and bequeath to Mr. Dawson.
Silver Tongued Wroe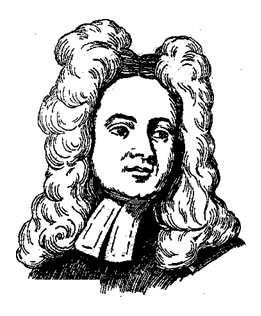 Richard Wroe
RICHARD WROE affords one of the rare instances of a prophet being honoured in his own country. He was the son of a yeoman, and was born at Radcliffe on the 21st of August, 1641. After being educated at the Manchester Grammar School he went to Jesus College, Cambridge, where he took his degree a year after King Charles IL's restoration to the throne. Taking holy orders Wroe was appointed Chaplain to the Bishop of Chester, and was made a Fellow of the Collegiate Church of Manchester. He was likewise made a Prebendary of Chester Cathedral and presented to the vicarage of Bow­den. - Subsequently he became Vicar of Garstang and Rector of West Kirby in Wirral.
On the Wardenship of the Collegiate Church at Manchester becoming vacant in 1688, Wroe petitioned the King that the appointment should be given to him, the Bishop of Chester, who was the official visitor of the church, strongly recommending his claims in two letters to the Archbishop of Canterbury. Considerable delay, how­ever, intervened between his petition and his appointment, it being considered doubtful whether he could hold the Wardenship as well as other church pre­ferment. Wroe and his supporters argued that the Wardenship was not a cure of souls but a dignity, the reasons being-
" 1st He is called in the Charter and the Statutes, Guardiamus, and Prcepositus Colkgii, but never Rector or Vicariu• Ecclesiae.
" 2d He is onely instituted by ye Bishop of Chester, and then installed in Manchester Church without any induction ; nay, there is a particular proviso in the statutes (that he shall not be inducted but onely instituted and installed) to prevent as 'tis conceived, all pretence of making it a Cure.
" 3d The late warden, Mr. Heyrick, had r Rectory of Thorneton, in Cheshire, to­gether with his Wardenship, and never had any dispensation as for two cures.
"4th The last warden,Dr.Stratford,hath held it the best part of a year without any dis­pensation, whereas he had left his living here in London y° next moment after his in­duction, had a dispen­sation been requisite as for two cures.
" 5th Add to this, in behalf of Mr. Wroe, r present Petitioner, that nis Vicarage of Bowden is contiguous to Man­chester ; ye boundaries of ye parish join ; and that ye Wardenship alone will scarce main­tain itself in house and hospitality without some additional preferment."
Upon these arguments Wroe was ap­pointed Warden on 1st May, 1684, being created a Doctor of Divinity two years later. He was an admirable scholar, a profound theologian and famous all: over the county for his preaching. By the clergy he was called " The Chrysostom of Lancashire," and by the people, " Silver- Tongued Wroe." He had a beautiful voice, and the command ofs' a perfect eloquence. Dr. Wroe died in 1718, and was buried beneath the choir of the Collegiate Church, having been Warden for thirty-four years.