Selected Articles are :

A Letter by Frank Brown, r.e the Spring edition of the LLHF Newsletter.
From Denton to the Farmer's Arms a childhood 1940 to 1950 by Ann Atkinson
Part 0ne 1939 - 1943
Golden Jubilee of HM Queen Victoria 1887 (Supplied by Mrs Kathleen Beeley)
From Denton to the Farmer's Arms
Longsight and the Alexander, Moss Side, a childhood 1940 to 1950 by Ann Atkinson.
Introduction
I live hundreds of miles away from my grandchildren and hopefully one day they might be curious about our shared history. They see their other grandparents more often and know them well. I wanted to organise a few of my memories for them.
I was born in Denton near Manchester and I have moved house many times. In my childhood it was because my parents became publicans. They 'managed" a few hotels in the Manchester area. Living in pubs made us 'different". I envied friends who lived in semidetached houses, friends envied me because I had a room to roller skate in. I didn't see my parents at night, they were working hard when other parents were at home and yet other friends did not see their fathers because they were away fighting in the Second World War.
The Greater Manchester area is the setting for this story because my Dad's parents Sydney and Lois Smale (nee Bromley) were from Denton, both worked in the Hatting Industry for which the town was famous. My Mum's family held pub licences for generations around Manchester. Her grandmother Olivia Jack was licensee of the Marlborough Inn, Ryclal Mount, Hightown. Olivia's daughter Mary Elizabeth (Lizzie) married Joe Lomas Frith at Manchester Cathedral in 1913, he was a plumber one of six children of a stone-mason from Chapel en le Fnth. The couple eventually moved to the Farmer's Arms and brought up their family there. In later life their two daughters also held the licenses of Manchester pubs - Joan, the Wilton Arms Denton and Mary, the Bay Horse, Longsight.
from Denton
Sydney Smale Lois Bromley

from the Peak
Joe Lomas Frith Mary Elizabeth Jack

Samuel

James

Ernest

m

Joan

Tom

Mary

Ann
(the storyteller)


Michael
The Smale family name has continued through the male line, my brother and his cousin and their sons; but sadly the name Fnth has died for this branch of the family because the male line was extinguished in the Second World War. Tom Frith aged 24, a navigator in Beaufort Bombers went on his first foreign mission. He was shot down in the Mediterranean and is buried at Tripoli. My mother expressed the hope before she died that his grave is not disturbed, he lies in a troubled land. Of my grandfather's five bothers and sisters in Chapel-en-le-Fnth not one has a surviving son. This branch of a very old Derbyshire family only continues through the female line.
I only knew my grandfathers for a few years. They both smoked pipes and wore combinations. When I visited Denton I often saw Grandad Smale in his "combs"in the morning. He had a very straight back and he still walked like a soldier, He had been in the "trenches", I think he was at Ypres. He kept his helmet and uniform hanging behind the back-bedroom door. He must have left Grandma to care for three young sons when he left to go to war. I remember his razor strop hanging in the kitchen. His wife, my Grandma Lois wore a cross- fronted pinny and kept her hands tucked in across her chest. She incubated eggs down her cleavage and we sang hymns together for fun We played with Oxo cards in front of the speckled cream and fawi~ enamelled grate which I once fell onto when Grandad had told me not to rock on my chair Lois was proud of her sons and very obedient to Sydney who was the master of his house.
Granddad Joe Frith had a walking stick, he was very tall, he had gout and wore a pocket watch. I only knew him when he had failing health
I never knew my other Grandma Lizzie Frith. She died aged 41 yrs in 1926. She really wanted children and persevered in spite of numerous miscarriages and the death of her first child Squire until she had Joan, Tom, and Mary disregarding a heart defect which she had from childhood. Her photographs show a refined lady in elegant Edwardian cream silk dresses, with parasols and wonderful hats. She loved the Theatre and Ballet which were within easy reach of her Manchester homes and she kept an autograph album. The vicar of her church gave her a beautiful leather bound book of Tennyson's poems. Her girlhood in the Marlborough Inn Hightown was in a thriving Jewish community and she told my mother that when it was the Jewish Passover a time of fasting for adults, the smallest babies were cared for at the Pub by her mother Olivia My mother was twelve when Lizzie Frith died, Tom and Mary even younger. Joan could remember things about her and cherished everything. Lizzie's jewellery box was stolen when my mother lived in Wallwork Street, Reddish in the 1970's and it contained the only photographs in a locket of Lizzie's mother Olivia Jack whom we think may have originally come from the Whaley Bridge area and Joe's mother Mary Frith of Chapel. Thomas Jack Lizzie's father, is a total mystery to me because I have no trace of his place of birth. On his daughter's marriage certificate his employment is given as Head Boots and I assume that he may have been employed at the Marlborough Inn.
It is only after years of bringing up my own family, having a full-time job, moving house a few times and losing family members that I have finally found time to think about my relations. It took time to act upon my decision to write down things which I remembered from my childhood because I did not want it to be a family tree (that is a different sort of family study). Nor does my story explore conversations or characters or probe too deeply their motives. I think that hying in pubs can be lonely at times and it made me the artist which I am today. My eyes and ears were always open and it was a stimulating world. At Christmas there was nowhere better. This is for my wonderful family with love
Atkinson nee Smale Penzance 2001
Part One 1939 - 1943
My father became a Master Plumber very young and took over a business when the owner died. My dad ran the business for his widow, his 1930's accounts book was completed in his neat handwriting .It was in the days of brass blow lamps and lead pipes. He invented a method of heating which became the Baxi fire, played cricket for Denton St. Lawrence and played billiards in the Billiard Hall. When he went to enlist in the Forces at the beginning of the Second World War he failed the medical because he was asthmatic. Disappointed, he spent the War working at Oldham's Batteries and doing plumbing jobs. My mother looked after the plumber's shop and did repairs for people as clothing became rationed. Fabric was in demand for uniforms and other Wartime essentials. She earned sixpence for turning a shirt collar and a shilling for letting down turn-ups on men's trousers, which she really hated. She made coats from blankets and had a hoard of a few pieces of pre-war fabric. Women were always unravelling old woollens and enlisted the family to hold out their arms so that the hanks could be wound into balls and knitted up again. All my baby jumpers were narrow stripes using up all her precious odds and ends of wool.
There were the usual small family traumas. When I was born she accidentally burned my feet when she forgot to remove a stone hot water bottle from my pram. One day she did the common distracted young mum's trick of leaving me in my pram outside the butcher's shop until someone asked where I was. When I was three I had pneumonia and had to have a kettle steaming in my face to help me to breathe and I can remember it !
Our shop was in a brick terrace of shops and houses opposite Denton Co-op. There was a smart flower shop, a sweet shop next door to the plumber's shop, a men's hairdresser's with a barber's pole which turned round and fascinated me. There was a ladies hairdresser's and a fish shop next to the ginnel (a long covered entry which ran from the main road to allow access to all the back-yards in the row), and a pub. I waited a little further on for my Granddad to come from the Old Soldier where he had a drink on his way home from the Planet foundry where he worked. Beyond the new Old Soldier was the modern Barcliffe Cinema. It was probably only 100 yards to the other cinema which was down the street by Parkin's Flower Shop smaller but just as well attended. It was a sign of quite a successful little town that it should have many amenities.
At the end of our yard was a lawried area, a greenhouse where dad grew tomatoes, a hen-run and the large workshop where my Dad stored and cut glass for windows. The hens laid eggs in other people's gardens and in our coal shed and outside toilet. Cousins Alan Bromley and his brother worked with Dad. Our house was one of the first to have an upstairs bath installed in a corner of the back bedroom, but Dad always thought it more hygienic for the toilet to remain in the back yard. Another shortage in War time meant that we were shown how to use one precious sheet of loo paper with two sheets of torn up Radio Times. Grandma neatly threaded the sheets each week and hung on them on the wall. I enjoyed looking at the drawings on thepieces and it was to be many years before I realised that some of the pen drawings, woodcuts and illustrations were by very famous artists, some like Eric Ravillious amongst my favourite Our shop window on Ashton Road was my playroom was full of sinks, iron baths, toilets and cisterns. All of these were the beds for my doll Miranda with the cloth face and blonde plaits (which I used to carry her around with her feet sweeping the pavements) and for Teddy who was a very large Merrythought Bear. During the War toys were often hand-made by fathers, 1 had a Kangaroo which hopped down a sloping board, a Tommy gun and whip and tops which I could not "do". I loved my tin of Plasticene and made farms and animals whilst sitting under the living room table hidden by the tablecloth. The very large Teddy had been bought for me by my Aunty Penny, Mum made cocktail dresses for her in very lovely crepe material with a sparkly thread and we took them over to Boston Spa, Lincolnshire. It was unusual for anyone to have such lovely dress-material. I think at this time Dad had his Standard Avon but it was a very long journey and we had to stay over night.
As the wife of a plumber my mother manned the upright telephone which stood on the shop counter next to the box of assorted leather and rubber washers and the "bills" which were threaded onto a knitting needle on a wooden stand. I played at being a lady in an office here shuffling papers and using the washers as money. There was a "Captains" chair behind the counter and it is still with me nearly sixty years later.
I visited the children and their parents in the other shops and houses. The girl next door had a dressing up box and we paraded in her mothers "thirties" hats. Gordon's mother was the hairdresser and she had perming machines with dangling clips to which ladies were attached like prisoners and sometimes there was a smell of burning hair. Some ladies preferred a "set" to "perm" and long metal clips with teeth were placed in rows across their hair and green setting lotion was applied liberally to train the hair into exaggerated waves which hugged their foreheads in imitation of film stars. Hair was often "singed" to seal the ends! The family had a big St Bernard Dog called Molly and I rode on it's back. They had the first television I ever saw and their house was decorated in the latest Wartime fashion. Paint was stippled onto the wall with the dog's brush and geometric border patterns were made out of narrow strips of paper. My Mother copied the style in our house.
When we lived at the shop my Dad's parents lived nearby in Crown Street. I must have only been about three years old when my Grandma took me into a neighbours house to see a friend's husband "laid out" on the front room table, he had his suit on.
Lois practised Herbalism and old cures. She buried steak in our garden to cure warts, Comfrey ( was a cure for many ailments inside and out. I had to wear greasy brown paper inside my a Liberty bodice to keep my chest warm, a sock with a rasher of bacon was wrapped round my neck for a sore throat and I was made to dip my feet in a pot of urine to cure chilblains. I was made to gargle with Sanderson's Throat Specific which is indescribable and Grandad smoked Asthma Cure in his pipe as an occasional change from Old Shag filling the house with a memorable perfume.
Grandma came to baby sit when Mum and Dad went dancing upstairs at the Co-op. We could see them from our front door. Sitting on her knee I saw German Bombers flying over on their return journeys across the Pennines after campaigns in Manchester and Liverpool. Only a few bombs fell on Denton they were just ditched to lighten their load.
Wartime shopping with Grandma meant queuing for Rations. There were small portions of meat , sugar, margarine, and it was a treat to get a tin of corned beef. We were members of a pig club, we and our neighbours saved all peelings in a bucket and they were boiled up with potatoes to make mash to feed the pig. It was secret. We had our own hens for eggs and my Mother hated the hens because they pecked her ankles. We used egg powder for a few recipes such as custard and scrambled eggs but Mum hated that too. We'd have custard with plums, rhubarb or stewed apple after a rare treat of tinned salmon if Uncle Tom was visiting. We queued for fish and sausages and we ate Spain fried in imitation of bacon or on sandwiches in imitation of ham. All different kinds of Tripe were very popular at our house.
Dad grew our vegetables on his allotment at the top of York Road and he was proud of his chrysanthemums which he fed with a brew of his own which he concocted in an old bath and stirred with a stick. He disbudded the plants so that the heads grew to form one massive bloom instead of having many flower heads which they would have naturally. Once when his cabbages all reached maturity at once I walked the streets of Denton with him pushing a barrow load of cabbages which he offered to people free. But nobody wanted them and he realised that if he had put a price on them it would be a different story.
Joan, my mother always said that she eloped with Ernest my father to escape the role of Housekeeper to her father but that left her younger sister Mary at home to work in the bar and keep Granddad Frith company. He became too infirm to carry on working at the Farmers Arms and Mum suggested to my father that we should all go to live there and look after the pub. My other grandparents moved to the Plumber's shop on Ashton Road and cousin Alan Bromley took over the business. Mary left the Pub.
Joe Lomas Frith never re-married. He adored his wife Lizzie and when she died his sister Florianne and Uncle Ezra helped him to run his home. Eventually they had to return to their posts as Stewards of Marple Conservative Club and later retired to Chapel. His niece Annie then came to look after the Children. Joan had been a pupil in the First Year of the newly built Levenshume High School and she had to leave to help keep house although she would have liked to follow an artistic career. Tom was a keen cyclist , a member of Withington Wheelers and he raced. My parents used to pace him in their car and we had a photograph which my mother took from the roof of the car as he cycled behind in his leather cycling helmet. After losing his beautiful young wife I don't know how My Grandfather bore the loss of his only son in the War at only 24 yrs of age.
Granddad Frith was a keen course fisherman all his life and he had a caravan on the banks of Coombes Reservoir at Chapel en le Frith. When he died in 1945 aged 66 he was remembered as a Gentleman Landlord. He seldom served behind the bar.
To Be Continued.....(In Issue No. 42 of the Dentonian)
Click HERE to continue the article.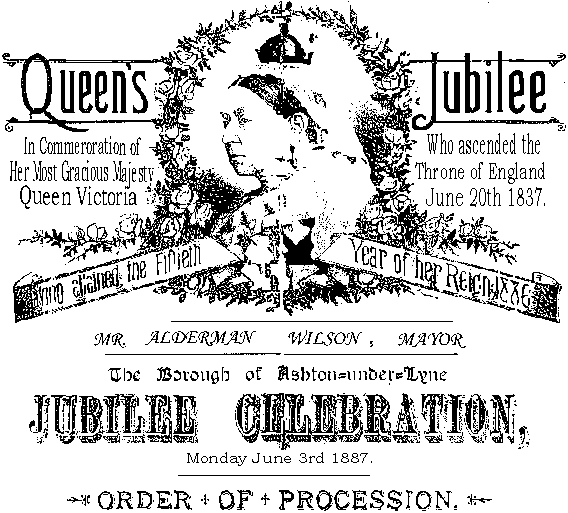 Police Constables.

Nonconformists Schools

TRAFALGR DAY SCHOOL
INDEDENDANT METHODISTS
WESEYAN METHODISTS (Mossley Road).
PRIMATIVE METHODISTS (Katherine Street).

Cathloic Schools.
Church Schools
PARISH SCHOOLS.
ST. PETER'S CHURCH.
CHRIST CHURCH.
ST. JOHN'S.
ST JAME'S.
HOLY TRINITY

Friendly Societys.

THE ANCIENT ORDER OF SHEPHERDS.
THE GRAND UNITED ORDER OF ODDFELLOWS
THE ANCIENT ORDER OF FORESTERS
THE INDIPENDENT ORDER OF ODDFELLOWS
(Manchester Unity,No. 4)

The Ancient Order of Free And
Accepted MasonGentlemen of the Borough
School Board
Churchwardens And Overseers.
Mayor Of The Manor And Court Leet Jury.
County And Botough Magistrates.
Corporation Officials.
Town Coucil



THE MEMBER
FOR THE BOROUGH

His Worship
The Mayor

TOWN
CLERK


FIRE BIGADE

C.H. Booth Chairman
R. Bradley. Hon Sec
GEORGE DALGLEISH Cheif Constable
Marshal of Prcession

By Order
HORROCKS & CO LITHOGRAPHERS, AHSTON-UNDER-LYNE.
A Letter
written by Frank Brown
in response to the editor's comments in the Spring edition of the LLHF Newsletter.
Dear Chris,
In your spring edition of the Lancashire Local History Federation newsletter, you stated that many people join societies to listen to speakers on local history but are not, themselves, willing to get involved in the research. You also said that it would be interesting to hear from societies concerning this matter.
Well, I am a member of the Denton Local History Society and I am writing to you on their behalf. I agree with your views and I admit that we too "carry a number of passengers" but in addition to speakers' evenings, we also hold workshop evenings and between us we are actively involved in various aspects of historical research. The following accounts are oust some of our many activities.
Led by our lady chairman Mrs. Jean Marlor, some members are currently involved in taking external arid internal photographs of the old hat factories and other derelict buildings in the Wilton St. area. These are due for demolition to make way for the development of a large new shopping precinct. Consequently, we are researching their past, salvaging relevant artifacts and generally recording their history, so that when they are gone, they are not forgotten. As historians, we feel it is our solemn. duty to serve as the custodians of !Dentonts heritage, and thereby preserve our past for generations of the future.
Our research goes back at least to the early 1980s when one of our founder members, Mrs. Jill Cronin wrote her book about Saint Armes Church, Haughton. This was quickly followed, by Mr. Frank Rhode's book, 'The History Of Pubs Of' Denton And Haughton.' Throughout the 1990s, several more books were published, some having been researched and written by Jill, and others by a group of our members working as a team. They have such titles as - Kingswater, Denton & Haughton, Deriton Voices, Then &c Now, etc. Jill has also had a number of maps printed showing our town as it appeared in the early 20th C. and a wealth of Information about the areas covered has been added to the backs of' the maps. I know that you Chris will relate to this, having done the same with your map of Guide Bridge.
As for myself, I have carried out my own research on Denton Hall, which once stood by Windmill Lane. Our society started this project with an archaeological excavation of the site in 1979. I have, since, taken this a stage further, which has ciUminated in my making a large scale model of the building. It was a beautiful timber framed manor hot~se which stood for about 500 years, but sadly burned down in 1930. To help preserve its history, I take the model along to societies and give talks on 'Denton Hall & Medieval Life. ' On 17th May I shall be at the New Moston History Society as shown in your newsletter.
If you wish to include any of the above Information in your next newsletter, please do so and I hope you receive replies from other societies telling you of their activities. Keep up the good work!
Yours sincerely,
Frank Brown